Another day of great weather. Who said coming to Europe in the Spring would be a bad idea?
I was quite happy to be heading out of Chur. Stuffy. Missed that open country air. Barnyard > car exhaust.
On our way out of town, we stopped at several stores to buy some necessary supplies. It's worth noting that central Chur is home to several great cycle shops; a key stop if ever a tourist is in need of some repairs.
Rejoining the route at Chur's main rail station, we thread our way through several urban streets before joining a designated bikeway that took us back towards the Rhine. The route follows the Rhine, though runs more closely to a large highway. The pathway is relatively straight and clear, so this is a great segment to do at speed. It didn't take us long to put Chur about 10 kilometres behind us and find ourselves back in smaller towns and farmland. The riding had been flat. My legs were grateful.
Coming into the area surrounding Igis, I noted that the valley had widened and that the hillside ranches were slowly giving way to grain fields and expansive vegetable plots. Some of the grain looked within a month of harvest. The Swiss really take agriculture seriously. I had heard there was still snow on the ground at home in Canada. I thought again about the merits of moving to Switzerland. Absolutely stunning, and a seemingly ideal climate.
Just before heading into Igis, we stopped for some lunch. The sunshine, grass, and wind made fine dining companions.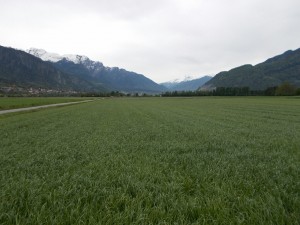 For lunch: Sausage, cheese, bread, oranges, and a carrot. I noticed that my pannier was already starting to smell like a deli. Liked that. I'll never wash it.
Passing through Igis, the route turns and heads back into the hills. Short climbs, epic views.
First castle sighted. Private residence. As the castle was mostly obscured from the roadway, and not wanting to trespass in case they still had an archer on staff, I opted to take a snapshot of the postcard perfect driveway.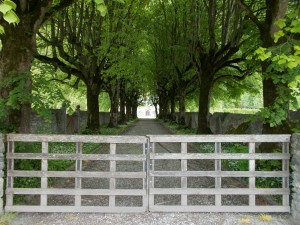 Immediately next to the castle, a lovely pig farm. We stopped to become acquainted with the locals. Lovely critters.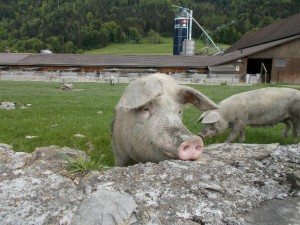 Leaving the farm, the route briefly re-enters some wooded area and crosses a small river before beginning to climb again.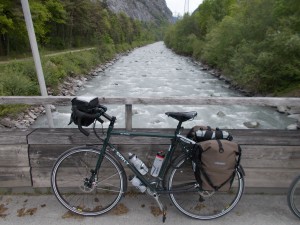 As we climbed, the view of the valley below got better and better. I greatly enjoyed looking down on dozens of Swiss farms as we climbed gently up the hillside.
Then, all of a sudden, vineyards!
…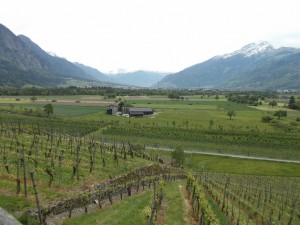 Had we taken a wrong turn and ended up in the Mediterranean? Switzerland's climate continued to surprise me. Epic snow in the winter, with a spring and summer that must come on strong. Locals are able to have a gnarly ski season and then move right into sowing a righteous garden. As someone who dreams of little more than a killer garden, open country and a full root cellar, I felt a hint of jealousy as I reviewed the local scene. What a great country.
The vineyards continued for a while, spackled with small towns along the way. We made regular stops to eat chocolate, a habit that became hard to break when our total journey concluded.
Soon, a steady descent began back down to the valley floor. This descent was far tamer than the ones of the last two days, but still great fun.
Leaving Bad Ragaz, the route follows closely to the river for a 13km straight shot, then enters Liechtenstein. Though long and straight with relatively uniform scenery, this straight section is anything but boring. The scenery is still very good, and it provides a great opportunity to bring the speed up a bit and give the legs a bit of a workout; a great way to earn the next chocolate bar…or three.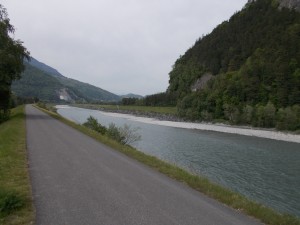 Entering Liechtenstein, we found villages and countryside essentially identical to Switzerland's. Riding for just a bit longer, we spot a huge castle atop a hill in Balzers and decide to get a better look. Leaving the route, we cycle into Balzers along the highway and climb a steep hill to find ourselves in the castle yard. The view was completely worth the climb.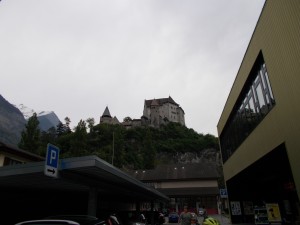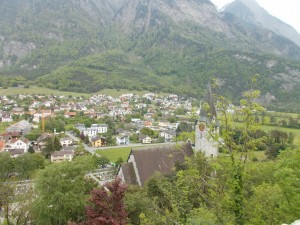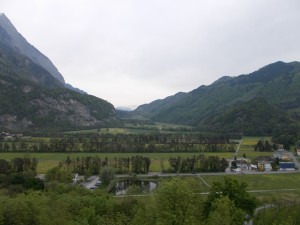 Leaving Balzers, we rejoin the route alongside the Rhine (which has widened greatly) and ride quickly along the bike path that follows the river. Most of this section is a straight shot, so again, it's a great place to make up some time. In very little time at all, we passed through Vaduz to take in some more of Liechtenstein.
Vaduz is a very nice place, but due to it being later in the day, we didn't find many things open. Though we had officially left the Rhine route to explore the town, navigation was not difficult, and we were able to rejoin the route by following some signs indicating the bikeway back to the river.
Rejoining the Rhine route, we find that the route immediately crosses the river heading back into Switzerland and the Swiss town of Buchs. Climbing slightly, we ascend through Buchs to find our overnight halt. Along the way, we cycle through Buchs' main shopping district with a wide street and walkways lined with dozens of shops. Reminded me of State Street in Santa Barbara, for some reason.
Stashing our bikes at our hotel, I note that the sky is starting to grow close again. Will it rain?
Day 3 Stats
Day's distance: 68.71 km
Average speed: 17.6 km / h
Max speed: 52.5 km / h
Total distance: 182 km
Seat time: 3:53