Having emerged from our hotel, we find it raining steadily. Lovely. On goes the rain gear.
Leaving Buchs, the route meandered through several small villages and more farming area before descending to the rivers edge and joining a bike path that leads all the way to Austria and Lake Constance. This part of the path is cinder, not asphalt, so with the rain pelting down I held a mental funeral for my bike's cleanliness.
Sigh.
The rain was steady, and heavy at times. Add in some lower temperatures, the odd gust of winds, and it was clear that mother nature was trying her best to dampen our spirits.
Positivity still reigned though, and despite being cold and wet, we were still enjoying ourselves. Furthermore, the rotten weather meant that the trails were completely devoid of other riders, so we didn't even have to worry about traffic.
We stopped for our morning snack under a large bridge. Cheese, sausage, bread, and chocolate. The wind drove the rain underneath the bridge. Shivering. More chocolate.
Back in the saddle, things were pretty unpleasant for a while more. I couldn't feel my fingers.
Would I have rather been some other place?
Nope.
A few kilometers further, we make the decision to detour from the route into Altstätten for further provisions and to see the town. This turned out to be very worth the few extra kilometres.
Climbing gently into town, we stopped to have lunch at a local restaurant. The proprietor was a lovely lady as old as time. I ordered the special from the blackboard out front. Soup. Salad.
The soup came. Good.
The salad came. Very good.
The shin stew, garlic mash, and sateed kale came. Wah?
I already felt quite full after the soup and salad, having previously laid waste to a healthy quantity of cheese, sausage, and chocolate under the bridge not long before. No matter. I powered through the extra food. Added calories never hurt on the bike. We quickly guess that due to the language barrier my order had been misunderstood.
For the record, the shin stew was epic. Best ever. Mash and kale good too.
Our bill came, showing one order of the special. Still slightly confused, we pay and walk outside to discover my view of the specials board had been obscured. The stew was mentioned, but so far down I hadn't even seen it. Wouldn't have ordered it if I knew how much food was at hand, but I'm sure glad I did. Best mistake ever.
On the way out of town, a quick stop for more cheese. End up buying some fresh buttermilk as well. Was loving every bit of food. All great stuff.
Nearing the outskirts of town, we come upon a large Salvation Army store and spend several hours digging through their rather large collection of old Vinyl LPs. #1 ended up with about a dozen albums and continued the ride with them stacked and strapped to his rear rack. A little extra weight on a touring bike is always okay. There's lots of treasures along the Rhine.
Rejoining the route we ride several more kilometeters, mostly straight, finally reaching the Rhine's entry into Lake Constance. At this point the route turned to the east, then north again as we entered Austria.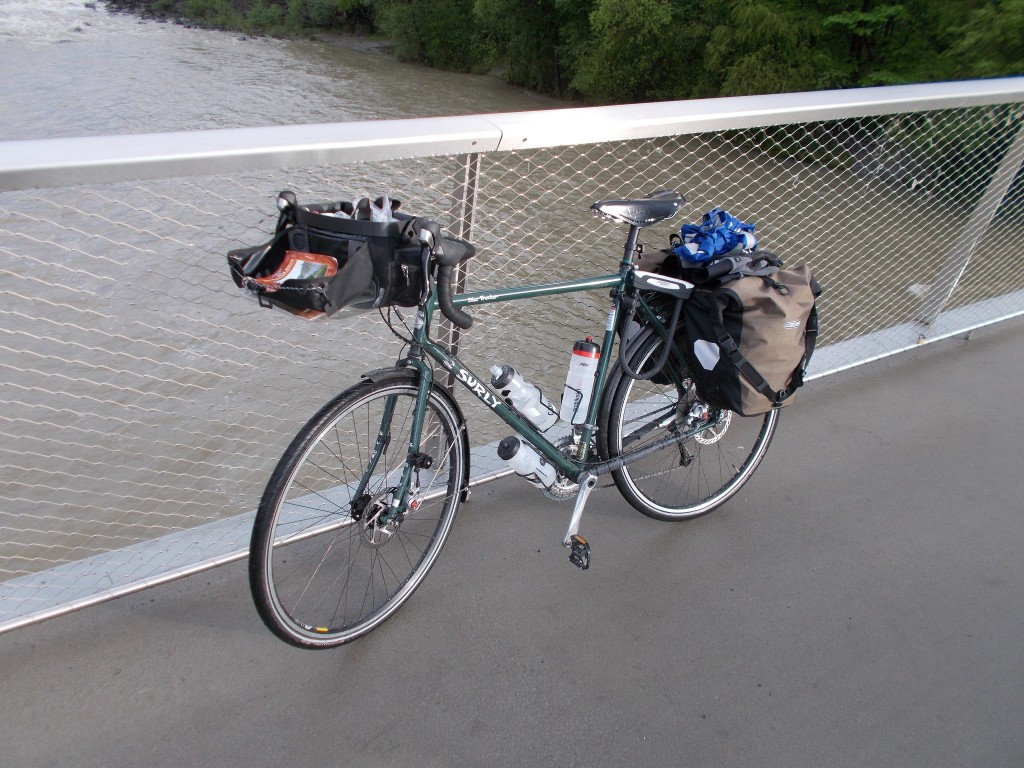 Riding this section was very enjoyable. After entering Austria, the route passes through a nature park and then follows the bank of Lake Constance all the way to Bregenz. Most of this area is public parkland, so the riding is easy and there's lots to see.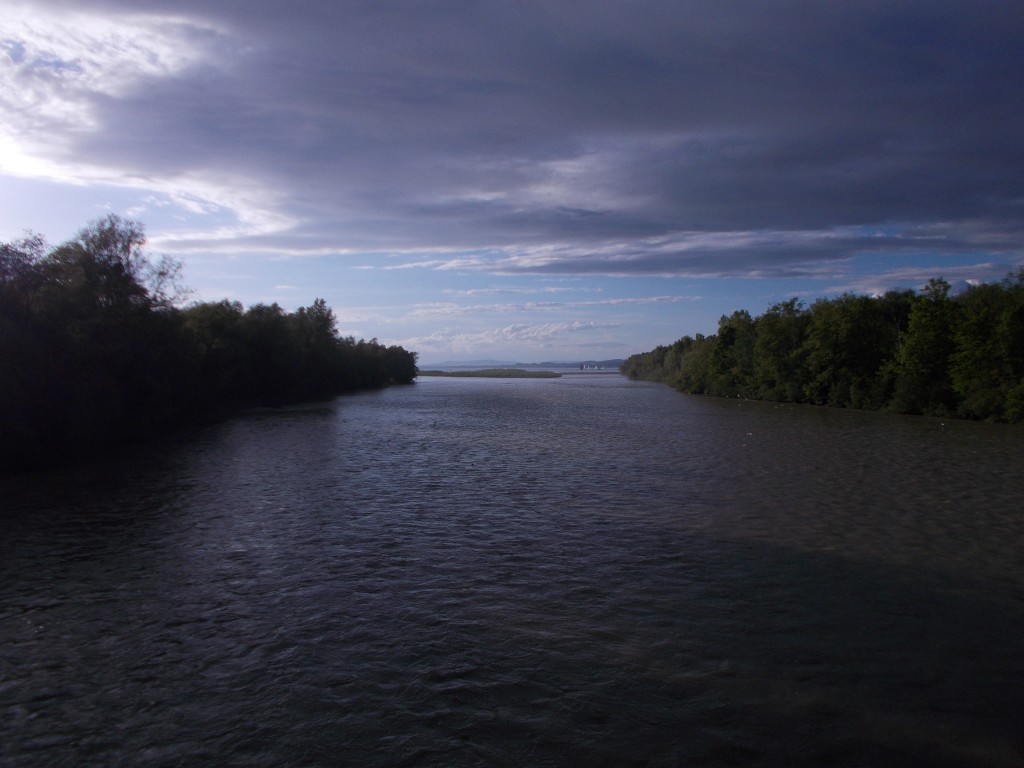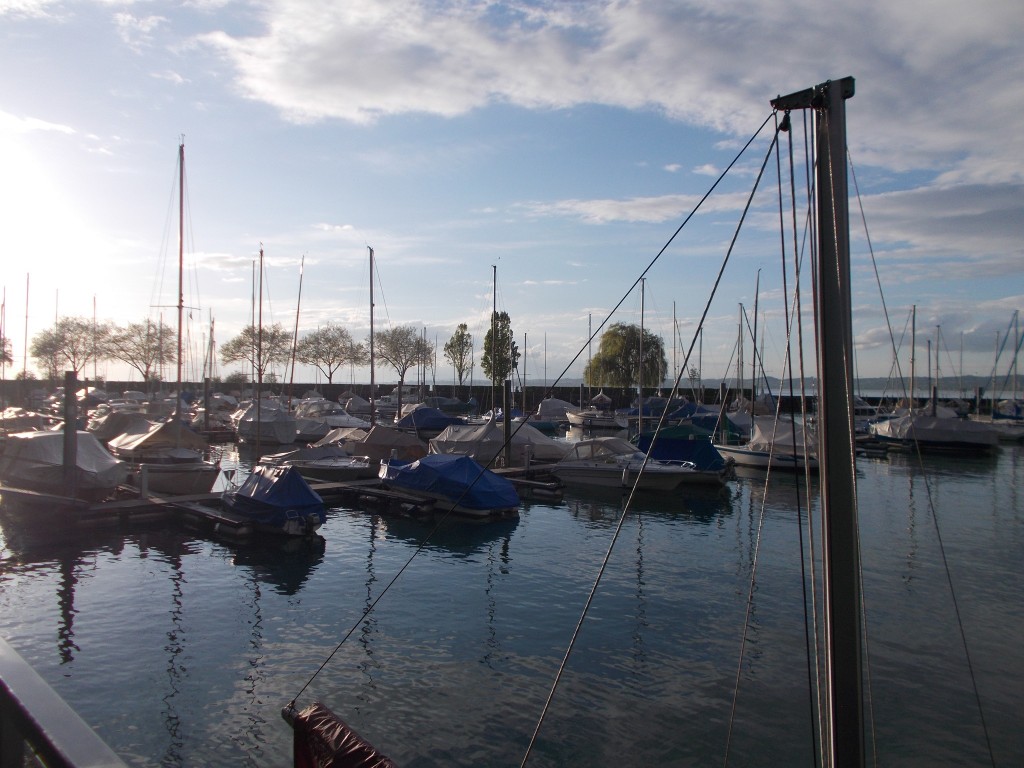 Our plan was to spend the night in Bregenz, and with the rain starting to let up, we rolled into town hoping to find a place to stay. We visited several hotels in the town centre; all full. Thoroughly famished, we stopped for a falafel at a local eatery and then continue our search for accommodation, eventually resorting to using a phone to call around rather than riding between each hotel.
Everything was full. An architect convention was in town.
Cripes.
At that moment I recalled what many blogs had indicated: No matter how much you plan, sooner or later you'll have trouble finding accommodation and have no choice but to press on….in the dark.
Darkness was falling, and we had no choice but to press on. This is exactly why lighting is a must have item for any bike tour. Plan as you might, you never know when you might find yourself having no choice but to pedal under the cover of darkness.
Lights on, we make a few more calls and finally find a hotel with vacancy about 10 kilometres further up the route in Lindau. With the darkness now complete, we leave Bregenz at full clip.
Rejoining the route, we kept a blistering pace through the dark. The path was on the side of a busy road and in poor condition in places. It was exciting at times. Slightly sketchy at others.
Re-entering Germany, we left Austria forever behind, having only been there a few hours. With the rain trying to return, we rode into Lindau and climbed up to our hotel. Despite the dark, we had no trouble finding the place. Good fortune, on a day that had tried its best to dismount our enthusiasm.
The hotel was beautiful, but very old, and probably haunted. I didn't care though. Sharing my room with a ghost seemed much more appealing than sharing it with an architect.
Our rain gear had worked very well. For the most part, I was dry, and so was all my gear safely tucked away within my epic Ortlieb panniers. My bike was a mess.
Drank the buttermilk before bed. Perfect.
Day's stats:
Distance: 79.25km
Seat time: 4:27
Average speed: 17.7 km/h
Max speed: 31 km/h
Total distance: 261km.